Fresh, light, tomato salad. Perfect for picnics and barbecues.
Tomato Salad
INGREDIENTS
Loads of tomatoes - any kind you want is fine and you can mix and match
1 cucumber
3 stalks of celery
1/2 red onion (feel free to add more if you like more onion)
3 cloves of fresh garlic (or more/less)
1 bunch fresh basil
Dressing
Olive oil - just a drizzle
Balsamic vinegar - just a splash
Black pepper to taste
A pinch of salt
PREPARATION
Chop everything up and put it in a bowl. Put the dressing on and mix it up. It's even better if it sits in the refrigerator over night.
ABOUT KIM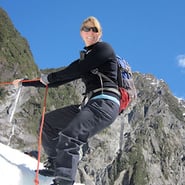 Since training with Kenzai, Kim has enjoyed trying new recipes and adapting old favorites. When not in the kitchen whipping up tasty food, Kim can be found playing outside with her husband, daughter and dog. Living in Colorado means great weather, plenty of sunshine and loads of active people to play with. Kim enjoys watching her young daughter explore new foods and feels happy knowing she's helping her family to maintain an active, healthy lifestyle.