This is a really convenient training dish as it can be prepared ahead of time and even used as a packed lunch. The couscous can be eaten hot or cold (cold makes it more like a salad). It goes well on top of salad greens, as well as quinoa and rice if you need extra carbs. Instead of salmon, you can use another white fish, or even ground chicken or beef. It lasts for 4-5 days in the refrigerator.

Cauliflower Couscous
INGREDIENTS
1 head of cauliflower
1/2 cup finely chopped carrots
1/2 cup finely chopped onions
1/2 cup finely chopped bell peppers

Seasoning
1 tsp white vinegar
1/2 tsp whole grain mustard
2 tsp lemon juice
PREPARATION
Cut cauliflower into florets and put them in a food processor. Coarsely pulse until it they have a crumbled texture. Don't overdo it.
Heat up a pan and lightly cook the cauliflower. Add chopped vegetables of your choice (carrots, onions, bell peppers, etc...)
Add seasoning. (Variations - add vinegar, mustard and lemon for a Mediterranean flavor. Or add curry powder for an Indian version!)
The remainder of the chopped vegetables can be used to make the salmon cakes.
Salmon Cakes
(makes eight to twelve 4 cm salmon cakes)
INGREDIENTS
1 salmon fillet
1/4 cup finely chopped carrots
1/4 cup finely chopped onions
Finely chopped bell peppers
1 small size potato
1 egg (optional)
Breadcrumbs (optional)

Seasoning
Black pepper
Your favorite spices (optional) - you can use fresh diced herbs or dried herbs. Dill and parsley always work nicely with the salmon.
PREPARATION
Steam salmon fillet and then flake the meat.
Steam a small size potato and slightly mash it.
In a large bowl, mix the salmon and chopped vegetables. Add the potato mash to help the patties stick together better. Adding a whole egg or just the egg white will also help the patties form. Mix everything. Add a little bit of the water if the mixture gets too dry.
Make into patties. If you want them a bit crunchy you can add some of breadcrumbs if your carb allowance isn't a worry.
Bake the patties in the oven for 20 minutes or pan fry them (no oil needed).
(Optional) Serve with Greek yogurt on top.
ABOUT CORA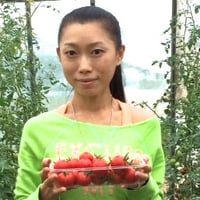 Growing up in a Chinese family that's very serious about food, Cora is a true believer that cooking delicious, healthy food with all-natural ingredients is the only sustainable recipe for health. Being in Asia and coming from a multicultural background, she enjoys all kinds of cuisine, from Chinese to Thai to Japanese to Mediterranean to Mexican. Her goal is to able to incorporate the healing power of natural food into her cooking. Cora lives in Hong Kong with her American husband and two young children.