Aubergines, also known as eggplants or brinjals are low in calories and fats but have lots of fiber to keep you feeling full for longer. When roasted and mashed they become a delicious spread to accompany roti, tacos, or sandwiches. This dish is versatile and easy to prepare if you are short on time and want a light snack.

Roast Aubergine
INGREDIENTS
2 large purple brinjals/aubergines/eggplants
Olive oil - 2 tablespoons (less if you're using a non-stick pan)
Garlic – 5-6 cloves sliced
Onions - 3 medium chopped small
Ginger - 1 inch piece chopped or julienned if you want to avoid biting into it by accident (ginger has many health benefits, won't hurt to eat)
Green chili – 1 (usually the darker slender ones are more spicy, so if in doubt just slice it whole and drop it in) chopped
Salt - to taste
Tomatoes - 2 large chopped
Fresh coriander leaves – Chop to make up 1 1/2 tablespoons (or more)
PREPARATION
Wash and pat the aubergines dry. Roast them over open flame or in a preheated oven until the skin scorches and starts peeling off and they start to shrink – it's not a pretty sight but soldier on. Let them cool. Remove the skin and mash the pulp using your hand or a potato masher.
Next, heat oil in a wok (a round-bottomed pan, or any non stick pan with sides will work too.) Add garlic and ginger and fry till golden, add chopped onions and sauté till translucent.
Add tomatoes and green chili and cook for a few minutes. Don't let them break down too much. Add the aubergines and cook further for about 10 minutes over medium heat, stirring often, till they no longer taste sharp / acrid.
Add salt to taste. Garnish with chopped coriander. This is traditionally eaten with rotis but you can serve these in tacos or with rice too.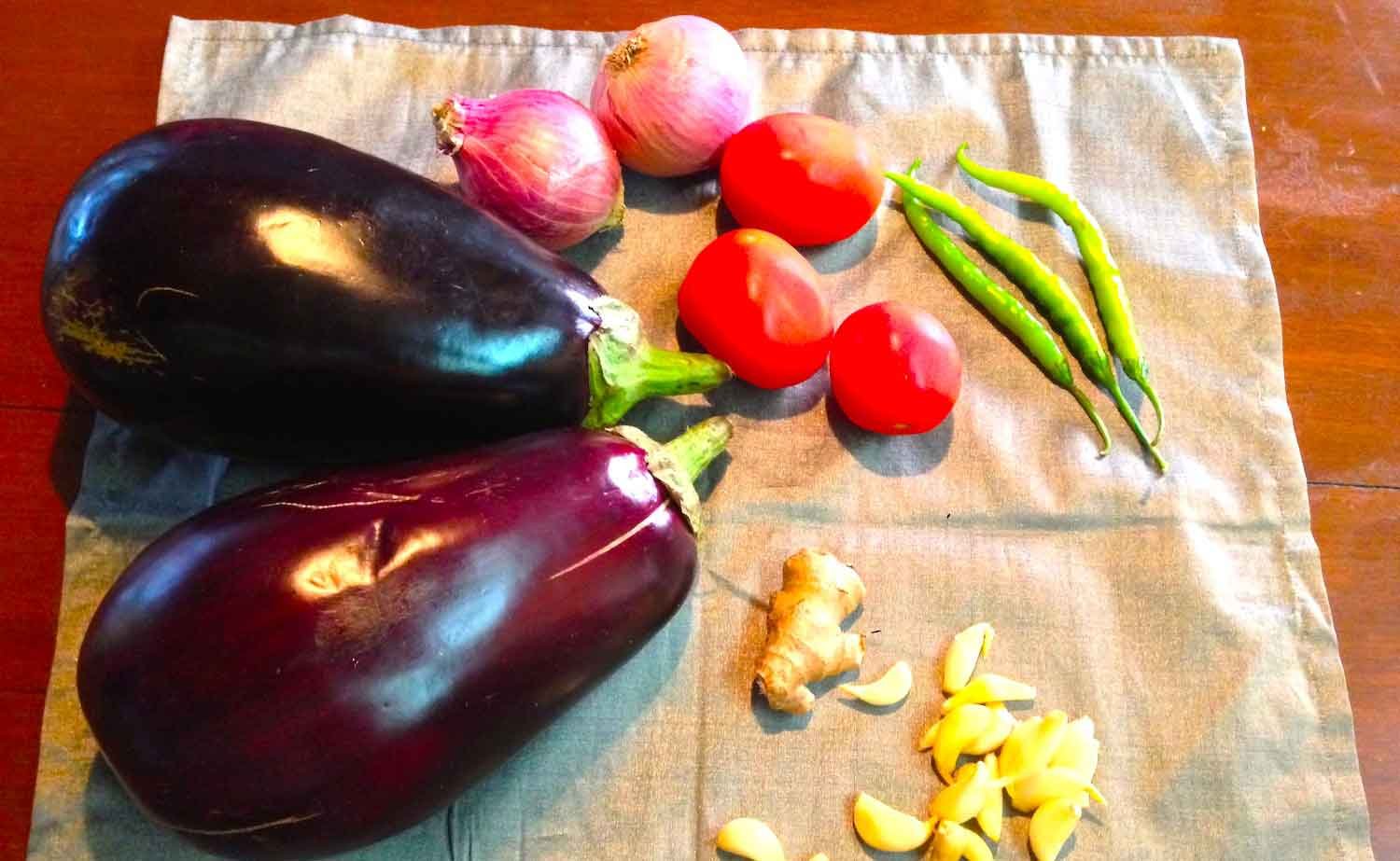 ABOUT SANDHYA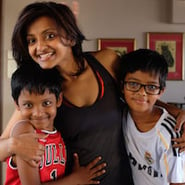 Sandhya describes herself as a reformed Doritos and peanut addict thanks to Kenzai not least because her skin was turning orange from all the artificial flavoring. She has two boys, aged 12 and 10, who she'd never just 'allowed' to win at races and arm wrestling, but they now allow her- much to her chagrin. Her family loves diving, farming, dancing and laughing (often for no discernible reason).