This is a relatively simple breakfast recipe that contains all of the components for a Kenzai-friendly breakfast: an egg, carbs and vegetables. The quinoa can be made in advanced and stored (and used at any meal). Nearly any vegetable will work in the sauté pan. And the eggs add protein and flavor when scrambled.

The vegetables add a splash of color and tasty flavors to the dish.


KENZAI QUINOA STIR-FRY

Ingredients
Cooked quinoa (weigh grams after cooking)
1 egg

Assorted vegetables (examples):
Red Pepper
Green Pepper
Yellow Pepper
Onion
Broccoli
Carrots
Green chili (optional)
Fresh cut ginger (optional)
Cilantro (for garnish)

Spices:
¼ tsp red chili powder
½ tsp lemon juice
½ tsp chat masala
PREPARATION
Soak the uncooked quinoa for 1-2 hrs. Drain the water and put the quinoa in a pan. Add 2 times the amount of water to quinoa to the pan and boil for 20-25 min on low heat. Once all the water is evaporated and the quinoa is cooked, set it aside. Wash, dice, and weigh the vegetables. Heat a pan with 1 tsp of olive oil and add all the vegetables. Stir fry for a few minutes and make a hole in the center of the pan. Add the egg in the center and let it cook. Once the egg is cooked, add the quinoa and mix all of the ingredients together. Add chili powder, lemon juice, chat masala, green chili and ginger. Let it cook for few minutes and garnish with cilantro.

KENZAI QUINOA STIR-FRY



ABOUT THE AUTHOR, ALKA G.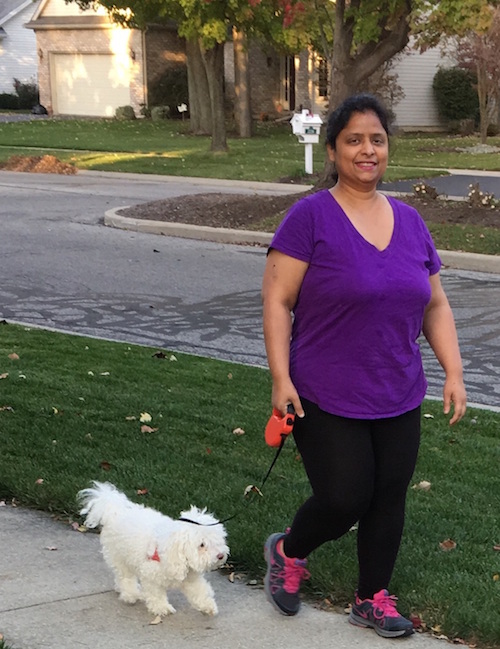 Alka is a new member of the Kenzai family and on a journey to create a healthy lifestyle for her and her family. She enjoys cooking and socializing with her friends. She lives in Ohio, USA with her husband, daughter and their dog.
---