Shallots are super good for you like everything in the allium family. The great thing is that they have a much higher concentration of vitamins, minerals, and antioxidants than just plain onions. The best part is you get to count these tasty toppers as your veggies!
Quick Pickled Shallots
---
INGREDIENTS
Shallots, peeled, root trimmed, and thinly sliced
Sherry vinegar
PREPARATION
The only equipment needed is you and a knife and a jar. What matters is you. Put the shallots in the jar. For each 1/4 cup of shallots (about 3 shallots) add 2 tablespoons (30ml) of sherry vinegar. Cover and refrigerate for 30 minutes before eating.
Serving suggestions
Try mixing it up with rice vinegar and a splash of sesame oil and sesame seeds for an Asian twist; you could even use scallions instead of shallots! Apple cider vinegar works too. You can add them to cooked green vegetables for flavor, to cold noodle dishes, put them on salad, or on your favorite Kenzai-friendly sandwich.
---
---
ABOUT NATE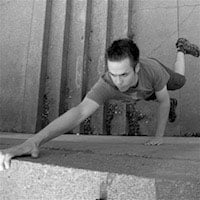 Kenzai Trainer Nate stumbled across what would eventually become Kenzai back in 2008 and never looked back. You can usually find him cooking up new stuff in the kitchen, out in the garden, or working on a new batch of home-brewed beer. Oh, and he might be out and about trying to not break himself while he jumps around on things. Getting more in touch with seasonal and local produce and businesses every year has been a rewarding way that Nate has tried to expand his Kenzai lifestyle.