This twist on an Argentinian green sauce is an excellent topping for meats and fish and it is completely Kenzai friendly! Use it to spice up your protein choices and as part of your veggie intake. I use it here as a topping to simple grilled chicken wings that are lightly marinated (usually overnight) but you can put it on beef, chicken breasts or goes well on a firm white fish. Adjust the ingredients to suit your desired spice level and feel free to make a big batch of it to use throughout the week.

Chicken Wings
INGREDIENTS
1 tablespoon black pepper
1 -2 cloves garlic finely chopped
2 tablespoons olive oil
juice from 1 lime
optional - dash of sea salt
PREPARATION
Mix above in a ziplock bag and toss in 15-20 wings. Toss until evenly coated and stick in fridge. Marinate for at least 30mins, overnight also ok.
Grill wings 15-20mins until fully cooked (or bake wings at 210' c for ~40mins until done)
Chimichurri Sauce
Serving size – makes about 400-500g
INGREDIENTS
4 Garlic Cloves
½ teaspoon Ground Pepper
50-75g fresh parsley
50-75g Fresh Cilantro
1 Table spoon smoked paprika
½ tablespoon dried oregano
1/2 teaspoon nutmeg
1/2 teaspoon ground cinnamon
½-1 fresh jalapeno chili (can substitute dried chili powder or leave out if don't like spice)
1 Table Spoon fresh Lemon juice
2 Table Spoons fresh Lime juice (Option: 2 tablespoons of red wine vinegar)
2 Table Spoons extra virgin Olive oil
2 red bell peppers
1 large tomato
½ small red onion
(dash of sea salt optional)
PREPARATION
In a blender combine the garlic, pepper, parsley, cilantro, paprika, oregano, nutmeg, cinnamon, chili, lemon juice, lime juice and olive oil and blend.
Finely chop the red bell peppers, tomato and onion.
Combine the blended mixture with the chopped vegetables in a bowl and mix.
Serve over the wings and enjoy!
ABOUT JASON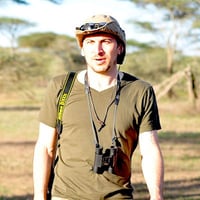 Jason Block is the co-founder of Kenzai. A former musician and current entrepreneur he is originally from the US. He has a love of travel and culture which led him to live in China, Taiwan, and Thailand. He currently resides in Tokyo, Japan.