This fluffy cold soup is an easy way to get a dose of some healthy, tasty greens. Great for vegetarians, vegans, and/or broccoli lovers. Did you know that broccoli grows from seeds, is full of Vitamin C, and is part of the cabbage family? Or that the avocado is also known as an alligator pear? Enjoy!

Avocado and Broccoli Soup
INGREDIENTS
1 avocado
Half a head of broccoli
2 spring onions/green onions
Juice of half a lemon
Water (200mL-500mL depending how thick or thin you want your soup)
Add a little of the following according to taste:
Parsley, chives or other herbs
Black pepper
Garlic
Paprika
Chili flakes
PREPARATION
Blend well in a blender, Nutribullet or similar. For a smoother soup gently steam the broccoli for a few minutes first. Refrigerate for a few hours and enjoy cold.
---
ABOUT KIT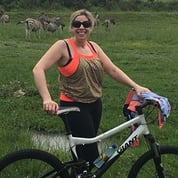 Kit is an Australian living in the United Kingdom. She has three young children, a devoted hound, a wonderfully supportive husband, a lust for travel, and a weakness for sugar. She is crazy for tropical fruits and all things chocolate. She is training with Kenzai and finds her energy levels significantly more stable (no sugar crashes) and her skin clearer and is shifting some fat. She is active at the gym doing spin classes, and completed her first triathlon last year. In her downtime she is slowly writing a novel and sings in a band.